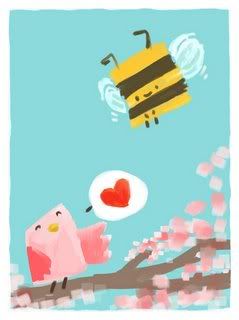 MJ is barely 8 years old....I personally do not think it's time to have "the talk" with her yet for
many reasons. What bugs me is when older kids at daycare seem to think it's cute to talk about things that I believe are inappropriate talk for little girls. Here's how the conversation went yesterday:
MJ: Did you know you have to have sex to have babies?
Me: Who told you that and what exactly did they tell you. I'm not mad, I just need to know.
MJ: "B" at daycare told me. What is sex anyway?
Me: You don't know?
MJ: No I don't.
Me: Well, let's not talk about it in front of Sarah right now.
MJ: Okay!
She forgot about it thank goodness. I know that sounds like a cop out, but neither one of us are ready for that talk. I'm all about talking about the changes she might be experiencing in the next year or so (so many of her friends are already experiencing those changes), but not the sex part. Some parents feel the need to give their kids details, but not me. The time will come soon enough. I need to make a trip to the bookstore!!!